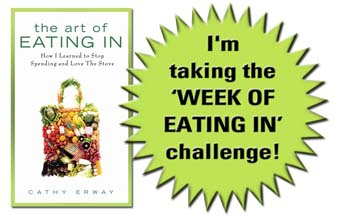 This is the babka that officially sank my streak of eating in. Say what you will about my lapse in willpower, but if you utter a lowly syllable about the babka, you are banned from my life.
I spent this morning slushing down Bedford for a medical appointment. While trudging back up from the heart of Hasidic Williamsburg, I wasn't feeling very hungry, but when you're in a neighborhood as unique as this, hunger tends to be less powerful than the impulse to pounce while you're in striking distance of a genuine artifact.

The irresistible temptation to take home an edible piece of whatever neighborhood one happens to occupy at any given moment is a core trait of many a worthy eater. I like to imagine myself as worthy; hence, when my friends knocked on my apartment door to help me shoot today's video, $20 of Oneg Heimishe Bakery's richest, densest, crustiest chocolate babka awaited their embrace. I had a maple cheesecake in my freezer and could have whipped up a batch of cookies in twenty minutes, but this wasn't about sating my sweet tooth – it was about recognizing a beauty beyond my person (mere kismet that this particular loaf of beauty was like a dark, sweet brownie folded and swirled into a luscious, streusel-topped sweet bread).

After indulging in my share of the babka, I introduced my guests to one of my favorite forms of breakfast. Steel cut oats, a heartier form of the rolled oats with processed sweeteners I grew up eating on camping trips and on approximated winter mornings in Orange County, are head and shoulders above their single-serving neighbors in the cereal aisle.
While steel cut oats are not nearly as convenient to cook, technology has granted us a few great compromises in the form of quick-cook steel cut oats. Trader Joe's, McCann's and Coach's Oats all sell 10-minutes-or-less renditions of their more traditional steel cut oat offerings, and they're all delicious.
I spoke to Erin Zimmer, editor of Serious Eats and New York's own oatmeal luminary, about the relative quality of the quick-cook oats in my kitchen, and she gave me the thumbs up; the main differences in the quick-cook varieties seem to be a finer cut and a partial cook before packaging, putting consumers one step ahead of the groat game.
So, once you've gotten ahold of a can of oats, how exactly do you translate them into satisfaction?
Here's my answer, in moving pictures:
Thursday's Meals
-Yogurt with frozen berries and granola
-Quick-cook steel cut oats with ripe banana
-Chocolate babka from Oneg Heimishe's and Oslo Coffee's "Thor" through French press
-Quick-cook steel cut oats with a ginger, brown sugar and molasses
-Blood orange
-Leftovers from Day Three
-Raw carrots with homemade hummus