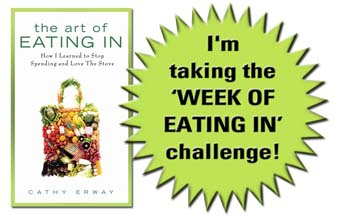 A vengeful sinus infection has been making my already hectic week fundamentally Hellish, but thanks to my batch cooking reserves, whole grains and abundant produce I've continued to eat in well. Since I didn't have the time or strength to produce a video this afternoon, I thought I'd share my favorite way to go about said batch cooking.

Red beans and rice is one of my all-time favorite foods, and given how nutritious, tasty and filling it can be, I'm not content to relegate to the status of a soul food side. Making a batch of red beans, or any other pot of beans or stew at the beginning of the week, is the best insurance you can have against sneak attacks by hunger or inconvenience. Making said beans in a pressure cooker cuts the time needed to prepare a good pot by more than half and eliminates the need to watch and stir, which means for chump change (I'm pretty sure it costs me less than five bucks to make a week's worth of red beans) and about an hour of time you can have one of the finest foods in the world ready for reheating at any time in your fridge.
Over the past year I've sculpted this great pressure cooker recipe into a go-to pot of beans that I consider perfect:
Sweet Heat Red Beans – Ingredients
1 tablespoon olive oil
1 tablespoon bacon fat
1 green pepper, chopped
2 stalks celery, chopped
2 garlic cloves, minced
1 teaspoon ground mixed peppercorns
1/2 teaspoon cayenne
1/2 teaspoon paprika
1 cup dried red beans, soaked overnight in water
3 1/2 cups ham or chicken stock
4 bay leaves
2 links andouille sausage (or any other meat you like)
5-6 tablespoons molasses
Louisiana style hot sauce to taste
Sweet Heat Red Beans – Directions
-Warm the oil and fat in the pressure cooker over medium heat.
-Add pepper and celery with a big pinch of salt, then sauté for 5 minutes or until soft.
-Add garlic. Sauté for 2 minutes. Don't let it burn!
-Mix the spices together, toss into the pressure cooker, and stir everything around.
-Add ham stock, beans and bay leaves, and bring to a boil.
-Lock on the lid, and bring to pressure over high heat.
(alternately, bring to a simmer and slow cook for a hella long time – 2 hrs?)
-Reduce heat to medium and cook at pressure for 10 minutes.
-Remove from heat and let pressure drop.
(you can use cooking tongs at a distance to do this manually)
-Meanwhile, brown the andouille on all sides in a skillet and cut into chunks.
-Once pressure has dropped, add the sausage and hot sauce, lock the lid back on, and bring back to pressure.
-Cook at pressure for 5-10 minutes.
(alternately, keep at a simmer and stir until gravy has reduced to your liking)
-Remove from heat and let the pressure drop.
-Serve with whole grains!
A few tips for great red beans:
1. Always soak your beans in water. Even if you're using a pressure cooker, soak your beans overnight to reduce the amount of time you'll need to cook them and ensure that they won't turn out tough or brittle.
2. Don't skip the molasses. They'll firm up the beans just a bit and impart a nice, subtle sweetness – as well as a beautiful, dark red color.
3. Add a healthy dose of Bruce Louisiana Hot Sauce or Red Rooster Hot Sauce (or whatever other Louisiana style sauce is available) to your beans halfway through the cooking process to give it an irreplaceable Southern tinge.
4. Match your beans with different grains. I personally love pairing them with Russian kasha, which is essentially whole grain buckwheat. Kasha are grains much more tender and protein-packed than whole rice grains, and their gritty, wheaty taste is something to savor along with the beans.
5. Experiment! I like sweet heat, but by and large beans are very forgiving, so go buck wild with this one batch at a time. Try different spices and ingredients to your liking until you've reached your go-to recipe for a fantastic dish.

Dinner with roomie tonight was a spectacular one-roasting-pan meal: one-third of a whole pork roast from Dickson's Farm Stand Meats, rubbed with olive oil, sea salt, ground peppercorns, dried rosemary and parsley, then allowed to slow cook in its own fat for two hours (the right way to "set it and forget it"); diced Greenmarket yams coated and roasted in that very same fat as it dripped from rack to pan; and imported asparagus (it's been out of season for a while, but I get cravings) cooked in exactly the same way.
With the aid of a meat thermometer to tell me when the pork had reached 155 degrees, cooking the roast was ludicrously easy, with a huge payoff: a beautifully browned, crisp and lucious crust of fat, tender and juicy center cut meat, and just a simple cover of basic herbs to set off the natural flavors of a great piece of pork. After cooking directly beneath the pork, the yams, which had developed a nice, savory crust of their own, were pretty much the best sweet potatoes I've ever had.
Which reminds me: There is a video for today, after all!
Wednesday's Meals
-Quick-cook steel cut oats with ripe banana (tomorrow's story will be all about its brilliance)
-Fuji apple
-Yogurt with frozen berries and granola (why not eat this every day?)
-Red beans and Russian kasha
-Blood orange
-Raw carrots with homemade hummus
-A brittle slice of toast that was left in the toaster during yesterday's video shoot
-Herb crusted pork loin roast with pork fat roasted sweet potatoes and asparagus
-Orange juice with seltzer water